My next short story release will be coming soon! If you love Celtic, warriors, and of course destined romance then you'll want to read Destined!
PG – English – Fantasy/Historical Romance
Release Date: TBD
Publisher:  Dark Castle Lords
Book Blurb –
Branwyn, born to the Celtic tribes,  fighting against the Romans was content to die in battle until she watched her betrothed die. Making matters worse, the Gods give her immortality to keep their ancient ways alive. Branwyn feels she will never see her beloved, Evan again. Angry, Branwyn hates her future. Branwyn now faces living throughout time without him. Will she ever see him again?
~Magickal Graphics~
What is your working title of your book? The Fairy In Manhattan
Where did the idea come from for the book? I love fairies and NY so I thought why not combine the magic of fairies and of New York City. 
What genre does your book fall under? Paranormal Romance
Which actors would you choose to play your characters in a movie rendition? Hmm that's hard. I can't choose!
What is the one-sentence synopsis of your book? Helping a human with her magic isn't as easy as it seems especially when it goes awry. Are fairies and humans supposed to like each other? 
Will your book be self-published or represented by an agency? Hopefully a represented by a publishing company. If not self published. 
How long did it take you to write the first draft of your manuscript? Usually it takes me a couple of months.
What other books would you compare this story to within your genre? There is a lot of YA fairy books out there which are amazing. I don't like to compare though.
Who or what inspired you to write this book? Just the love of the paranormal like fairies, angels. I read a lot of different books so I get inspired by a lot of books!
What else about your book might pique the reader's interest?
It has a lot of emotion between two characters who think they're different from each other, yet are very much alike. 
Fellow friend from RWA Women's Writer's group Addison's on her website !
These four writers who accepted the Next Big Thing blog challenge:
My Fellow friend and writer, Miriam Newman.
Award winning author and friend, Eliza Knight.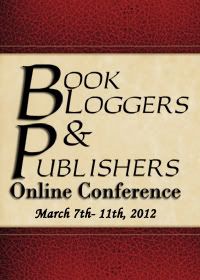 The Book Bloggers and Publishers Online Conference is coming up fast! Just over a month from now – from Mar 7th to 11th.   I attended last year and learned so much!  This year I'm serving as a panelist for several panels as well as a moderator for several more.  I'm pretty excited!  We are going to be talk about some pretty important topics!  Not only are the discussions great, but everyone who registers gets free books!
This is the 3rd Book Bloggers and Publishers Online Conference, March 7-11 2012.
We are excited to welcome some fabulous publishers and bloggers this year as we work together to better understand the relationship between authors, bloggers, and publishers in the industry.
There will be audio panels and simultaneous chat rooms for the live interaction.  All panels are recorded and available to attendees for a month after the conference. This is an opportunity to make new friends amongst bloggers and other industry professionals. There will be authors, editors, speakers from PR and Marketing departments, publishers, and specialists in social media, time management, and online organization.
All attendees will also receive books for giveaway from participating publishers. There are print and e-book titles available. Titles are being added to the giveaway page daily.
Below you will find a listing of the Panels and a short list of the panelists speaking at the conference.
More info can be found at pacomediagroup.com
Scheduled Events – All Panels are Subject to Change
Wednesday – March 7th
Panels – Opening Day
Where do Books Come From: Review Copy Distribution – Netgalley – Goodreads – Publisher Blogs: Tor.com, Romance at Random, USA Today Book Blog
Review Guidelines: Don't be Overwhelmed
Thursday – March 8th
Panels – Working with Authors
Approaching Authors – The Creative Process for Authors and Bloggers – What Authors look for in Reviews – Publishing: The Options Authors Have Now – Should Authors Review?
Genre Discussions: Category Romance – GLBT – Inspirational – More TBA
Friday – March 9th
Panels – Industry Day
What PR Departments do – Working with Private PR Companies – Blogging's Role in "Traditional" Media – Building a Relationship with Publishers – Obligation to Publishers: What are the Expectations?
Saturday – March 10th
Panels – Young Adult Focus – Online Safety – Keeping Social Media Social – Review Guidelines: Defining Your Blog
Negative Reviews: Fallout and Fears – Finding Independent Presses and Mis-use of the Term – To Review or Not to Review Self-Pub
What Bloggers Want: Don't make Publishers Read Our Minds – Book Blogging as a Business?
Sunday – March 11th
Panels – Time Management – Online Organization Specialist – Writers Block: Creativity Coach
Covers: How Important are They? – Graphic Novels: Reading and Reviewing – Meet Your Local Book Store – Blogger Manifesto 2012
Speakers:
Sue Grimshaw – Random House Publishing Group
Jennifer Bonnell – Penguin YA Editor
Robert Dugoni – Thriller Author
Lindsey Rudnickas – Netgalley
Kristen Lamb – WANA Consulting
Don Dauria – Samhain Publishing
Ariel Tachna – Dreamspinner Press
Kate Lied – Bloomsbury Publishing
For more information and to sign up go to Paco Media Group today!
My fairy name is Oak Elfweb
She is cheerful and friendly.
She lives in forests of oak and lime trees.
She is only seen in the mist of an early morning.
She wears pretty autumnal leaf colours and has transparent green wings like a cicada.
Find out your fairy names with The Fairy Name Generator!
How many times have we heard no funding available for schools? I am sure with today's economy that we hear it all the time. When back to school was in session and parents were trying to buy for their kids, it was all over the news. Parents struggling to find items for their children. Parents had to shop/search for bargains in order for their child to progress at school. I found this ridiculous.
I know growing up myself there was not enough funding in my high school's art department and yet it was the department that I thought understood me better than any other class I took. Unfortunately, the school is still in the same situation.
So I ask all the fellow writer's looking at this blog, take a look at this great website DonorsChoose.org. It's a website whose mission is to help people across the nation fund their projects. Projects range from helping build libraries for young children to getting new technology to teach young adults. The great thing about this site is you can search by state or your interests!
Also know that your donation is tax deductible and you are doing good for your country. No donation too small. Helping others is good for the soul.
This is such a great organization. It's all about ending poverty and other global causes. Currently they are trying to end HIV in children by 2015. They make very simple things to do very easy to donate whether it's buying a T-shirt or a bracelet, it contributes while signing their petition.
Join (RED) and the One organization goes hand in hand. They service the same global causes. Easy to help by buying some of their products from a variety of vendors such as Monster, Nike, Converse, Gap, etc.
St. Jude is one of my favorite charities. It is helping provide care for those who need with when a child has cancer. They have such a huge success rate in helping children. They also have various ways of donating whether buying through of the stores such as Kay's Jewelry, Online, eBay and now through Facebook.